GK - Workout short - Comfort Fit Mystique Waistband 1426Royal blue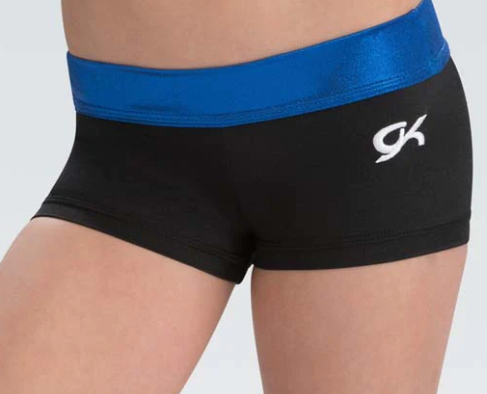 GK - Workout short - Comfort Fit Mystique Waistband 1426Royal blue
The workout shorts you have always wanted is here, in-stock, and ready to get to you in days! With a soft and stretchy main body of nylon/spandex, and a shimmery band of different mystique and opalescence colors to choose from, you can match your gymnastics leotard to your shorts, no problem!

Features & Benefits:
Workout short for women and girls
Low-rise fit
Main body in black nylon/spandex featuring a waistband in mystique or opalescence hologram fabrics
All fabrics: 80% nylon/20% spandex
GK logo on left hip
Comfortable and stretchy fabrics for a cover-up or layered look over a leotard, or on its own
This style is not available for Special Order
Available in colors: F21 Berry Mystique, 902 Ocean Mystique, Q18 Imperial Purple Mystique, U73 Neon Yellow Opalescence, F87 Electric Turquoise Mystique, W65 Magenta Opalescence, B81 Red Mystique
We know you need a workout short for various reasons, and we are happy to supply that to you! Whether it be for a leotard cover up during practice or a to-and-from the gym look, we have totally got you covered in these nylon/spandex black shorts!
Je dynamische Snippet wordt hier weergegeven... Dit bericht wordt weergegeven omdat je niet zowel een filter als een sjabloon hebt opgegeven om te gebruiken.